It is card swap week and I needed a cute and pink card and a stamp set I never used before (that was the challenge from my online craft night) and my choice fell to my brand new "Swan Soirée" Lawn fawn set. It is not a new set, but for me it is. I saw someone colouring vellum and thought one day I will use this and the day has come. I made my background with some SU "Pink pirouette" and made the grass from SU "pool party" with a hint of "Mint Macaron". I sprinkled some ink and Glimmer mist silver for some extra accents. Love this scene I created for the Allsorts challenge, as it gives me a bit of the swan princess feeling, I also enter the fawnatics for the kids challenge.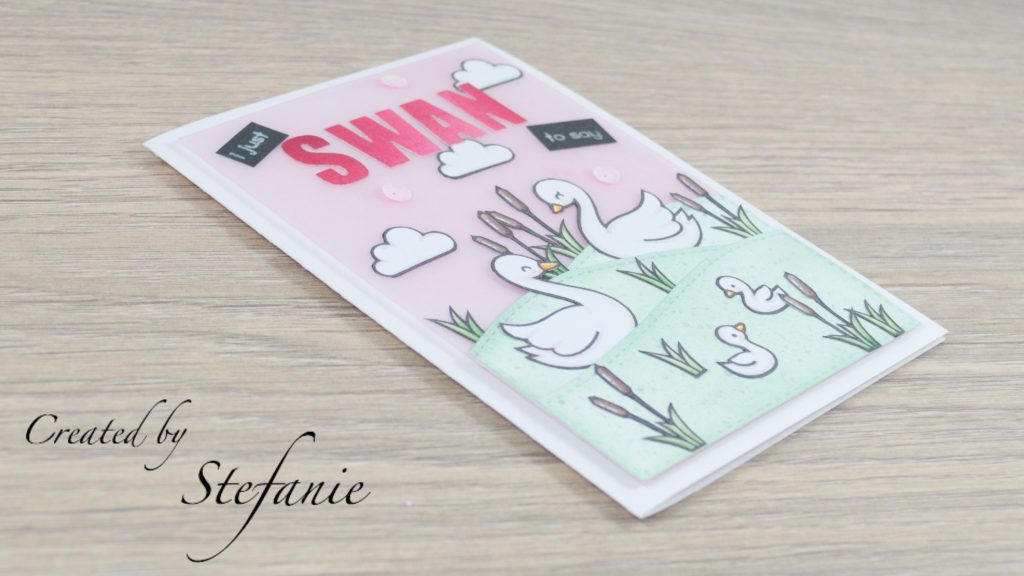 The colouring is really simple on the white swans. i just used my W1 and W0 for some details, my R30 for the cheeks (with some white gel pen, love this detail so much) and YR04,Y38 and Y17 for the beak. That is all and you are finish in like couple of minutes. The grass got my standard greens, the G20-G28 and the browns are E71, E74 and E77 with another white gel pen.
I added some clouds from the Lawn Fawn "Smooth Sailing" set to get some more details in the pinkish sky. The letters are die cut from SU "Pink Pirouette" and "Berry Bust" coloured paper to match the vellum. The rest from the sentiment is stamped with white pigment ink on plain black card stock. Love the colour combination of this card and the pastel look, it gives it a nice female touch and is perfect for the "hers" challenge from little red wagon.
Happy Crafting,
Stefanie