I had my first online card craft night ever and it was so much fun. but I am a slow crafter and not good with distraction, so I did not really finish or even started the card I "had" to make. The theme was spring and in the life theme "better late than never" I started the card after the weekend. Spring means, blue skies, nice weather and all the life starting to crawl out of their nests. I love bees and most other insects (not a big spider fan, but hubby will always catch them and carry them outside). I used three different lawn Fawn sets, the "Bugs and kisses", "A bug deal" and the small "Hey lady" one. Love to combine these. I enter the spring challenge from Lawn Fawnatics. I coloured all the insects with my Copics:
Bees: Y38, Y13-17, R30, white gel pen
Leaves: (G07), G03, G12, G14, G000
Worm: R00, R21-R22
Ladybugs: R22-R27, C5-C7, glossy accents, Wink of Stella
Cacoon: W1-W5, glossy accents
Woodlouse: W1-W5, glossy accents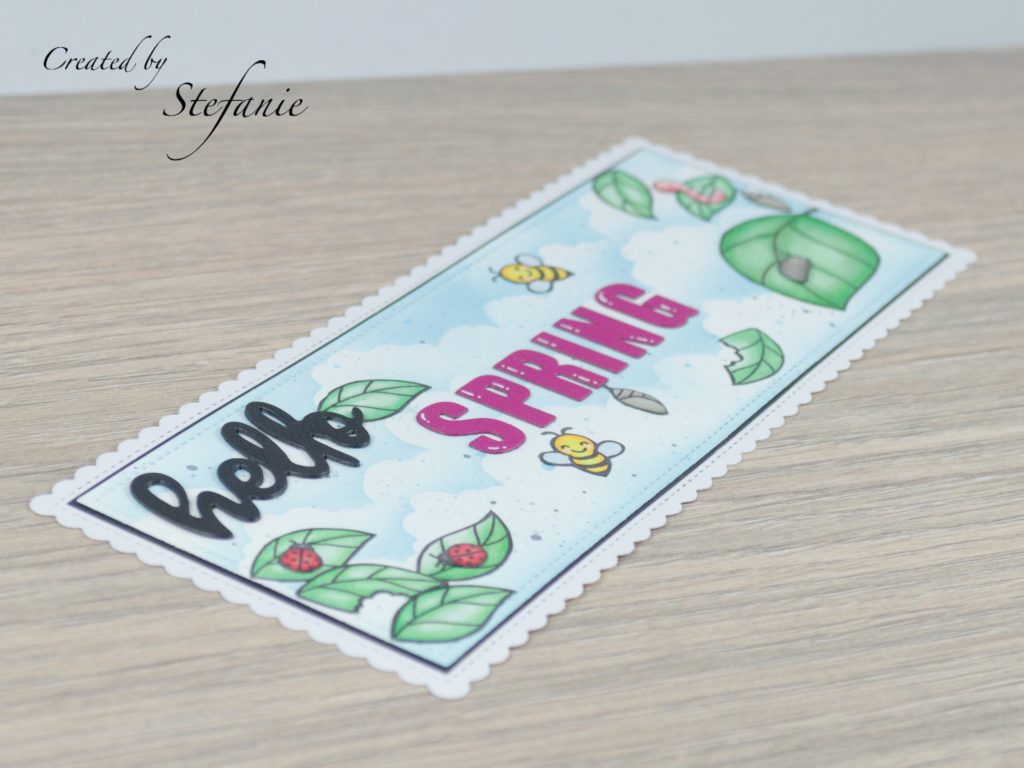 A lot of bees and wings for the Allsorts challenge and the one from Cute Card Thursday. I made the background with my distress oxide "tumbled glass" and my handmade cloud stencil and spattered some blue, black inks over it as well as silver shimmer mist for some extra sparkle.
The die cuts are from the dollar store and I really love the alphabet dies. super cute. I added some white gel pen to the letters for some extra effect. but didn't want to overdo it as I used a lot of small details as shimmer, wink of Stella and glossy accents. I used the Lawn Fawn slimline dies for this one and really think that the slimline format really adds to this card so much more dimension without all the cosiness of the "normal" card formats. It is perfect for the slimline with bold sentiment challenge from Sunday Stamps. Hope the recipient likes her card and is not afraid of bugs.
Happy Crafting,
Stefanie