I made another marine scene card. I love making these. Everything is made from scratch for this one and used four different stamp sets from Lawn Fawn. I used the "You are sublime" for the seabed scenery and the eel, the "Fintastic Friends" for the fish and the coral, the "Seahorsin' Around" for the seashorse and last but not least, the "I like you (a lotl)" for the axolotl and the inspiration for the sentiment. I didn't stamp this one, but used my old school label maker. I coloured all the stamps with my Copics:
Seahorse Y13-Y19, white gel pen
blue fish B 91-B95, wink of stella
Violet fish: V01-V09, silver gel pen
Eel G000, G12-G17, wink of stella
Brown scenery E31-E39
Green scenery G000, G12-G17
Axolotl R30-R32, R43, R00, R20-R22, R11, white gel pen
A lot of colouring for a card, but I love the diverse look and feel because of it. It makes the underwater scene complete.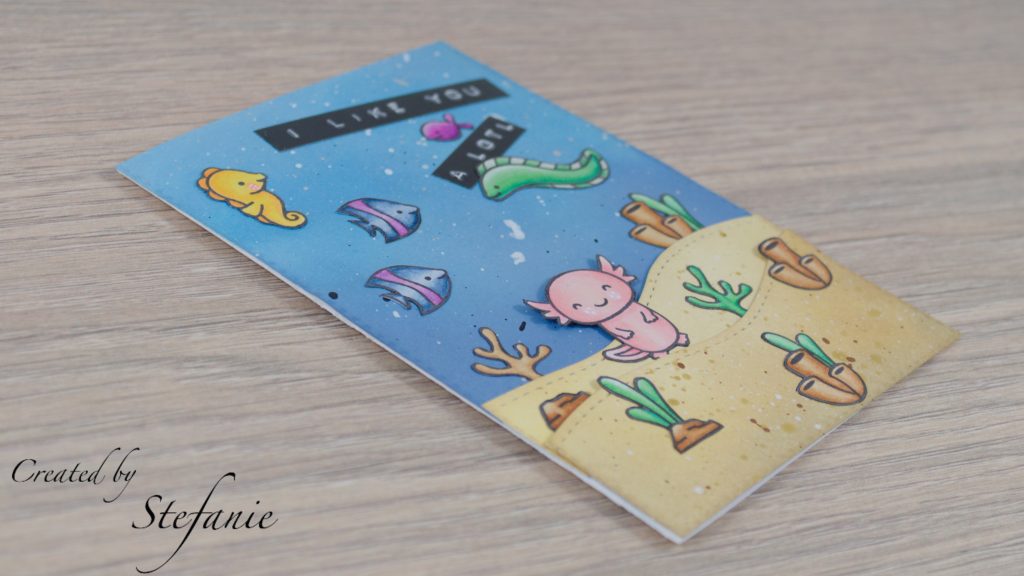 The background is coloured with distress ink in blues (tumbled glass, salty ocean, faded jeans and a bit chipped sapphire) and spattered with white acrylic ink, black and silver. The seabed is distress inks in browns (frayed burlap and antique linen) and spattered with white, brown and gold acrylic paint. After that amount of colouring and splitting and everything, it is a perfect fit for the make your mark challenge from Addicted to Stamps and more. It took me a while to arrange everything on this card and totally thought about using a slimline design, but I did not make my background big enough to change and had a deadline. This card was made for a card swap and had to be mailed this week. I enter the anything goes challenge from Love to Craft and Crafty Animal (must include an animal).
Happy Crafting,
Stefanie