After a weekend walking and gliding through a winter wonderland, the mood was set for another winter themed card after all the hearts and sweet valentine ones. I used the cute stamp set "Polar Bear Pals" from MFT. The bears a re coloured with my Copics in Grays (C0-C3), red for the cheeks (R30) and blues for the scarf (B91, B93). The fish bucket is in the darker Grays (C3-C7) and Blues (B95-B97). The cheeks got some white gel marker dots.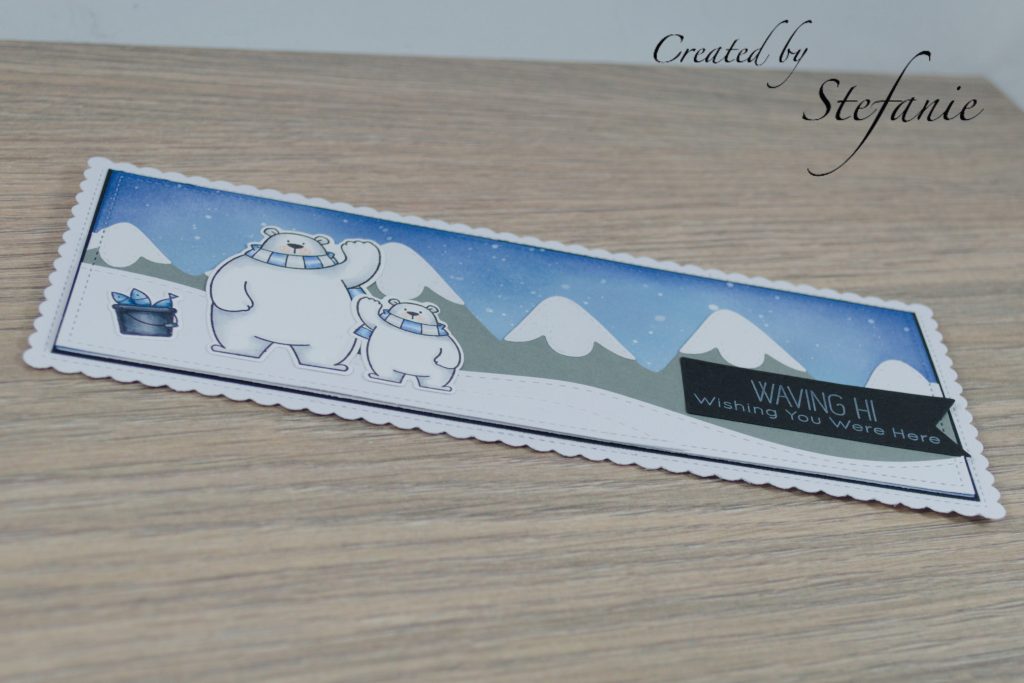 Of course I could not resist to make another distress ink and oxide background in all blues. Perfect for the boys and men out there and the Allsorts challenge. I used it as a sky and just added water and white paint spatters. The rest of the scenery are die cuts in shape of snow landscape and mountains.
The sentiment is stamped in white (pigment ink) on black card stock on one of my tag die cut outs. It looks fancy because of all the layers of the "Small Slimline with lift the flaps" and "Scalloped Slimline with hearts" die. I mounted the small slimline on black card stock for some more dimension before adding it to the scalloped one. A nice slimline card for the Cute Card Thursday challenge. Because of all the layers, I did not use any foam tape, unusual but it was thick enough already. All the dies made a cute little scene for the bears and the Seize the Birthday challenge. The weather gets warmer in the next couple of days, almost time for some spring or Easter cards.
Happy Crafting,
Stefanie