Did I mention that December and January are the busiest month for birthday cards? Maybe I have to audit friends for birthdays before making them friends, for family it is too late I guess. So I had to make a cute but cool enough card for a not so little boy any more. I love the Stampin' up set "No Bones about it", not only because it is a Dinosaur set (I love dinosaurs) but it is a skeleton one as well and perfect for tweens. It is a birthday card, but the sentiment works for friendship as well, therefore I enter the friendship challenge from Taylormadecard4u.
I also made this card complete out of scraps (finally, my scrap pile shrank after a project, that almost never happens). On the downside, I have no clue which design papers I used.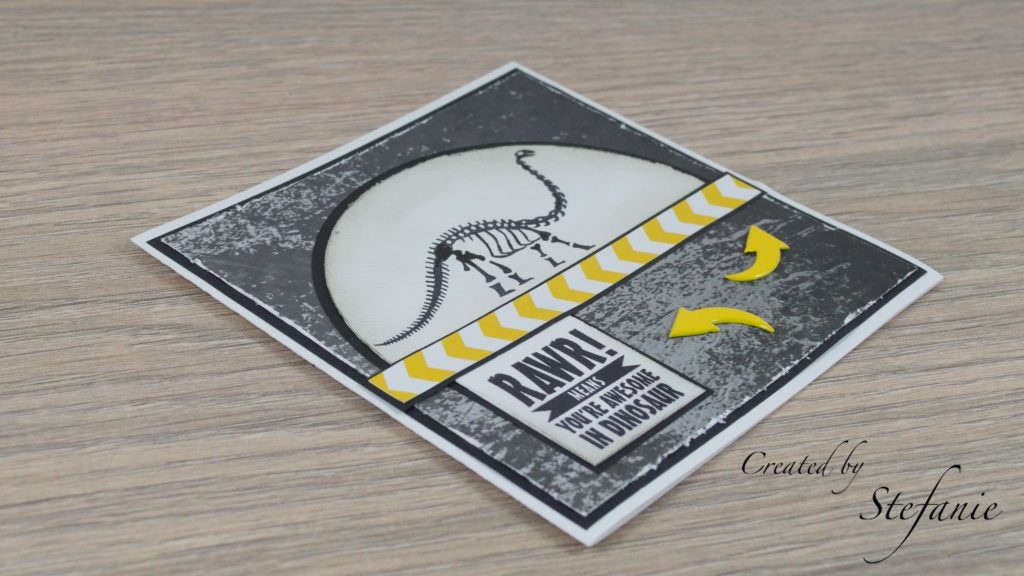 In my embellishment drawer, I found some yellow arrows from the dollar store. As this one is a tween going hard becoming a teenager, it was not allowed to be blingy, glittery or even use ribbons (why are ribbons not cool?).
So even my beloved 'Wink of Stella' had to get a break. At least I did some paper distressing on the black design paper and used another yellow paper scrap in place of a ribbon. The off-white card stock got a dirty, old look with some distress inks. I hope he likes it, but as a tween I am certain he has no time to even look at it as it comes with a present. I know his father made him read the card 😄. I enter the anything goes challenge from Scrapping 4 Fun and Cute Card Thursday with this card.
Happy Crafting,
Stefanie