For once I didn't make a card but a mini album. It was a snail mail challenge and was so much fun. My receiver likes cats, unicorns, birds (but not sketched) and is a Lawn Fawn fan. The dimensions from the open album is 23cm (9inch) and 9,3cm (3,6inch) and used the following dutch tutorial for the album: Youtube – Bij Margriet. I used the "Ally's Wonderland" design paper from Sei, because of the nice colours and its white inside. The beautiful glittery flowers are used for some tags on the inside. A lot of die cutting is done for all the details and perfect for the little red wagon challenge. The front page image is the cat from Lawn fawn's "Christmas Dream" set and the sentiment from the "Push here" set, also Lawn Fawn. The ribbon is from the dollar store, but I really like the lettering.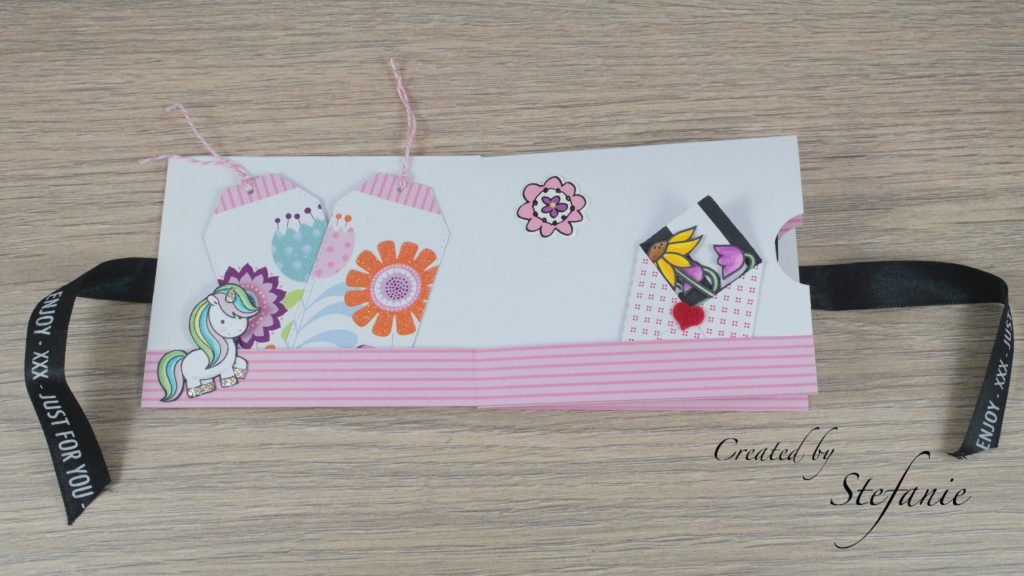 The first and second page is an unicorn from Clearly Besotted and is called "Fairy Tale Unicorns". I added some glitter with my Platinum Stickles and coloured it with my Copics. The tags and some extra personal things were added. I used some scraps from Stampin' Up paper to make a little envelope for some extra goodies as well as old postcards to add bird pictures to the album.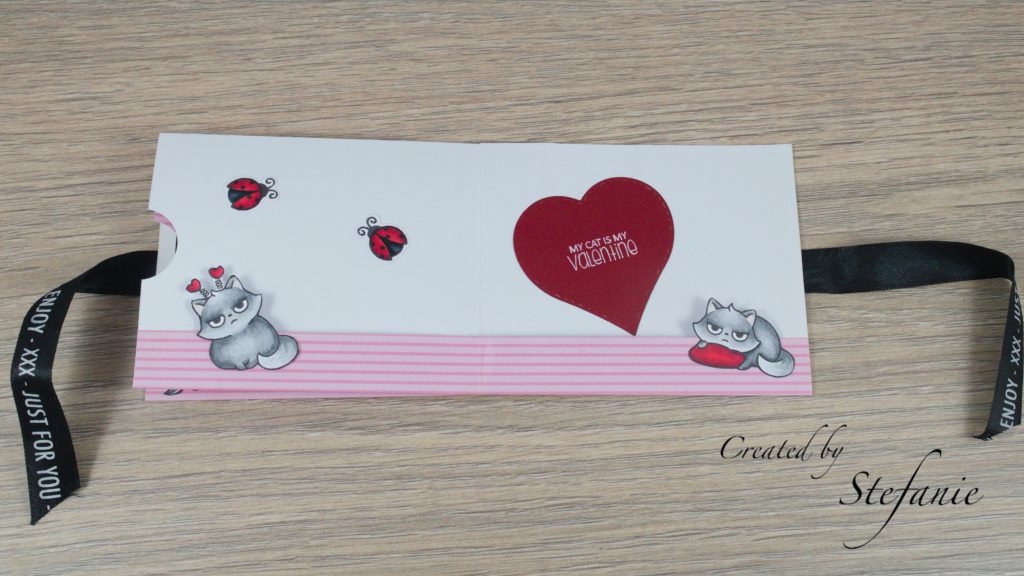 The third and fourth (and last) page are the cats from Clearly Besotted "Purrfect Valentine" as well as the sentiment on the heart die. There are many four legged friends in this mini album and fitting for the Dream Valley challenge. The ladybugs are from lawn Fawn, the "Bugs and kisses" set and are also coloured with my Copics. Of course, I added a lot more goodies (especially in the hidden department between the pages), but I do not show them all. But I can tell you all that the hidden gift is a small bag of flower seeds for happy bees and the small envelop contains coloured flowers and a bee from Lawn Fawn to go with the theme. But with all the stuff in the album, it got too messy for the photos, so I downsized a bit. Hope you still liked the project.
Happy Crafting,
Stefanie