Not far in the future, a very special girl (ok, maybe I am a bit biased, she is family after all) has her birthday coming up. As it seems, there will be no big party, so I had to make a extra special card and I really liked the stamp set "Fairy Tale Unicorns" from Clearly Besotted. But I had a hard time for the sentiment, until I found the one from Mama Elephant and the "Dragon Wishes" stamp set, the combination is wonderful.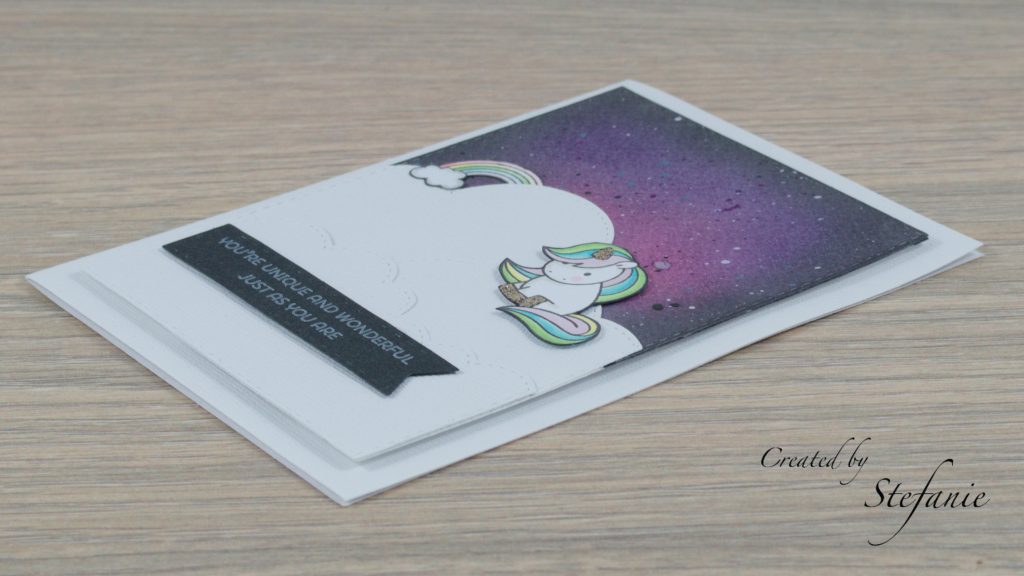 As usual, I had to make a fairytale background with my distress inks (this time: the pinks, purples and black) as well as some water and acrylic paint splashes. It is so fun and easy making these backgrounds. I had some cloud die cuts (in my early years, I didn't label my dies and have no clue which brand these are) to give the card a bit more of a dreamy look and feel.
This time, I layered everything on one big layer instead of several, i was afraid that all clouds would be a too thick of a card. The sentiment and main image are layered above the rest. And of course I had to do something special with the unicorn. instead of just using my Copics, I used my sparkly Stickles (platinum) from Ranger on the cute unicorns horn and hooves.
I really like the outcome of this card and I know the little girl will enjoy it (and the gift attached to it). At the moment it is really hard to find time away from all the Christmas related cards, even the challenge blogs are rare on inspiration, that's the reason I enter several anything goes challenges from Crafty Creations, Cute card Thursday and Love to Craft.
Happy Crafting,
Stefanie